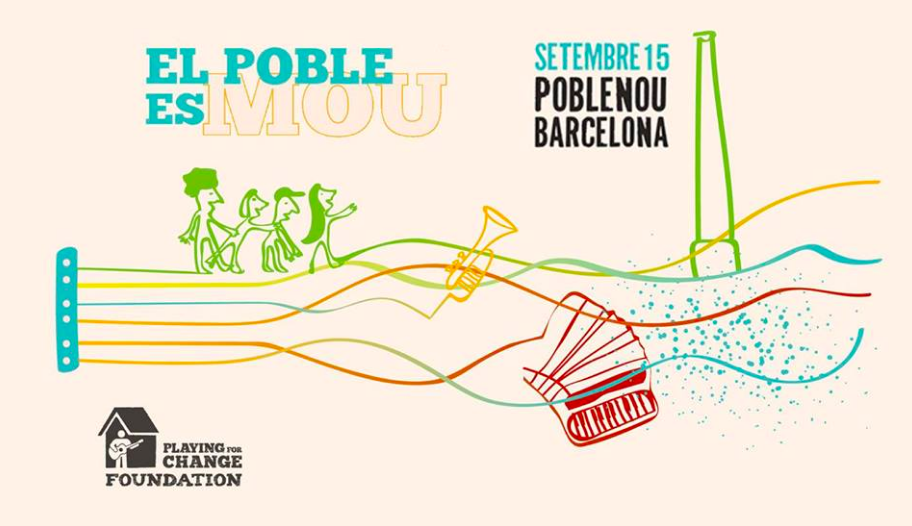 Sábado 15 de septiembre!!!
Festival de música gratuito en apoyo a la educación infantil a través del mundo.
Talleres, Conciertos y performances de la 13:30 a las 02:00. Música, arte, food and drinks!
Zoufris Maracas, James Kakande and friends, Eastern Spaguetti, Las Pibas ensemble, Rumbakana, special Dj...
Passatge Trullàs del Poble Nou (Metro Bogatell)
En colaboración con la Fundación Playing For Change que desarolla escuelas de música y programas educativos a través del mundo junto con Ajuntament de Barcelona, Projectes Parc i la Llacuna, Associació de veïns de Bogatell, Comissió Trullàs, Eix Pere IV, i l'Hort Indignat #6 de Poblenou.
A partir de las 13:30:
13:30 Taller de percusión voz y movimiento con Sol Homar
14:30 Taller musical para niños con J.C. "Pluma" Santillan
18:00 Las Pibas Ensamble (folk- fusion)
19:00 Rumba de la Esperanza: (rumba flamenca - rumba catalana)
20:00 Eastern Spaghetti (eastern fusion)
21:10 James Kakande & Friends (funk, soul, fusion)
22:30 Zoufris Maracas (world music)
00:00 DJ invitado especial
...
Free Music & Art Festival in Poblenou, Barcelona, raising funds for Children's Music Education. 10 Live acts. Sep 15 from 1:30pm to 2:00am. Passatge Trullàs.
Live concerts: Zoufris Maracas (France) , James Kakande (UK) and many more!!