GREECE CALLING FOR SEEDS CARE AND FREEDOM!!!!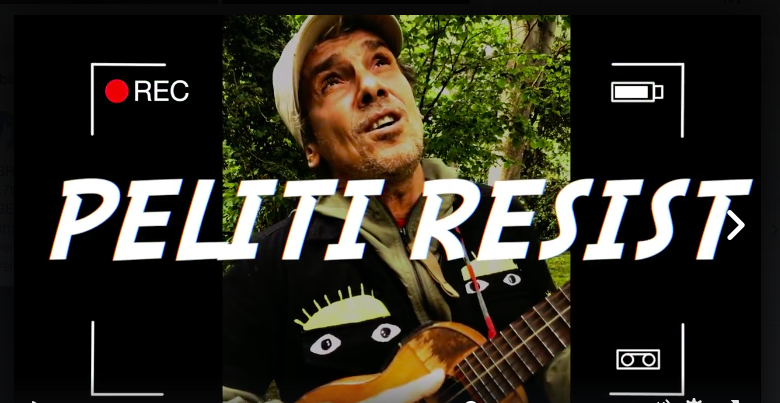 17th Peliti Seed Festival, from 19th to 22nd April 2017
Brothers and Sisters,
We are glad to invite you to the 17th Peliti Seed Festival which takes place in the Peliti land, Meshohori Paranestion Greece, on Saturday April 22, 2017, from 10:30 a.m – 17.00 p.m..
Today, at the First Olympic Seed Festival and 17th Peliti Seed Festival, from 19th to 22nd April 2017, here on the land of Peliti in Greece, all of us, men and women from different corners of the Earth, are joining our hands and uniting our hearts with all our brothers and sisters who are fighting for the freedom of seeds, water, the Earth, food , the forests and sending a message of love and respect for mother Earth and all forms of life existing on our planet.
We are women and men of many different religious beliefs, with different languages and different traditions, but we feel that we have common goals.
We consider ourselves guests on this planet and brothers and sisters to all other forms of life (plants and animals).
We want to emphasize that there are many of us on this planet who are linking together our hands and hearts. 
We work with love in our hearts for other people, for the Earth and its plants.
We respect the diversity of the plants, of the animals and the communities of people as well.
By all means we defend co-operation with the Earth and the other forms of life on her.
We also promote techniques that facilitate co-operation with nature.
We support free movement of seeds, as it has existed for thousands of years, from hand to hand and from generation to generation.
We are the first to have set the example for co-operation with nature.
We are the first to have set the example for being keepers of seeds, of water, of the earth and food.
We link together our individual powers, we orient our imagination and our hearts towards creativity, for the establishment of communities of love and cooperation, to make their contribution to the whole planet.
The world we dream of for ourselves and our children is based on love, co-operation, solidarity, joy.
Every day, with our positive thoughts and actions, do our best in this direction so that our vision may some day become true.
Let us not forget that until very recently many of the results of the technical and cultural efforts of humanity and the highest intellectual achievements as well (such as freedom of speech and expression), achievements that are now seen as commonplace, were just a dream for some people. 
 However, a few of them believed that dreams can come true and worked on them patiently and persistently. 
So we know that a world of love, solidarity, contribution and acceptance of differences is possible.
''From hand to hand '' and " from heart to heart''
So that we will not lose tomorrow what we have today, we join our hands and hearts in a tender embrace.
In the future there will be one Earth for all people, regardless of their nationality !
GET INFORMED :

http://peliti.gr/panellinia/995-peliti-seed-festival-2017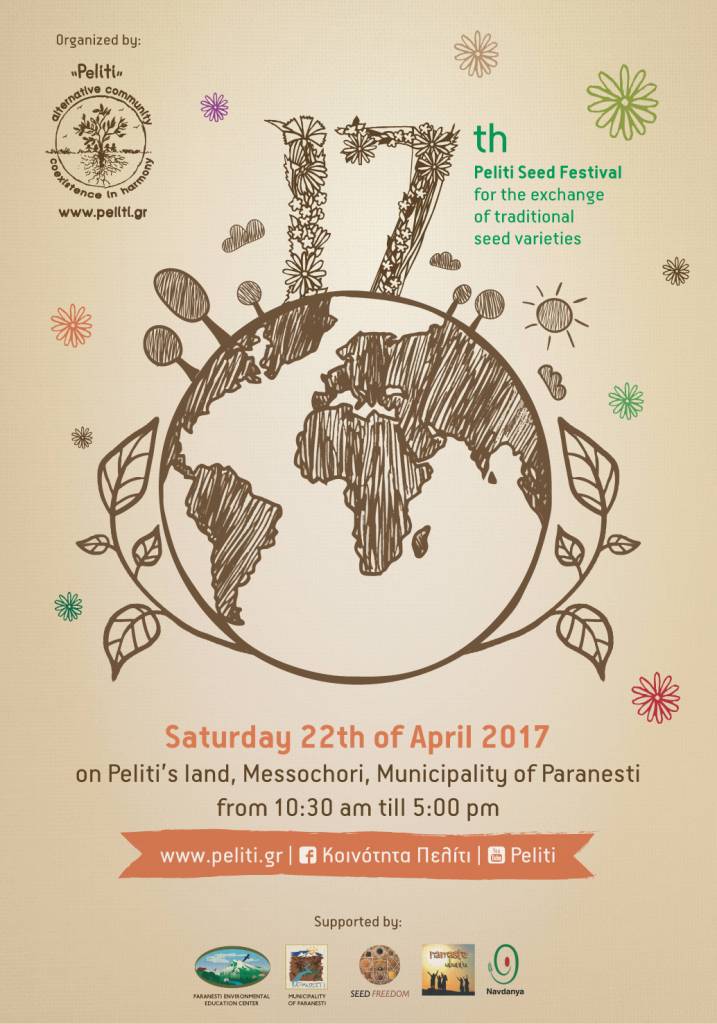 EN FRANçAIS :
Sœurs et frères
Aujourd'hui le 19-22 Avril 2017 , à la 1re Fête Olympique des Semences et 17ème édition de la Fête des Semences de Peliti, ici sur la terre de Peliti en Grèce, nous tous, des femmes et des hommes de différents parties du monde nous unissons nos cœurs et nos mains avec tous les frères et sœurs qui luttent pour la liberté des Semences, de l'Eau, de la Terre, de la Nourriture, des Forêts et nous envoyons un message d'amour et de respect à la terre mère et toutes les formes de vie qui existent sur la planète.
Nous sommes des femmes et des hommes de nombreux coins du monde avec des croyances religieuses différentes, langues et traditions différentes, mais nous pensons que nous avons des objectifs communs. Nous croyons que nous sommes hébergés sur cette planète et nous nous sentons frères avec les autres formes de vie (plantes et animaux).
Nous tenons à souligner que nous sommes nombreux partout sur la planète et que nous joignons nos mains et nos cœurs. Nous travaillons avec amour pour les autres, la terre et les plantes.
Nous respectons toute vie sur la planète
Nous respectons la diversité des plantes, des animaux et la diversité des sociétés humaines.
Nous défendons par tous les moyens la coopération avec la terre et les autres formes de vie sur terre.
Nous essayons de promouvoir des techniques qui favorisent la coopération avec la nature.
Nous soutenons le libre voyage de la semence comme il était fait pendant des milliers d'années, de main en main et de génération en génération.
Nous devenons l'exemple de la coopération avec la nature
Nous devenons les premiers gardiens des semences de l'eau et du système alimentaire
En unissant nos forces, nous mettons notre imagination et nos cœurs dans une direction créative vers la réalisation des communautés d'amour et de coopération dans le monde entier.
Nous envisageons un monde pour nous et nos enfants rempli d'amour, de coopération, de solidarité, de joie. Nous essayons de faire quotidiennement le mieux qu'on peut dans ce sens avec nos pensées et nos actions, afin que notre vision devienne un jour réalité. N'oublions pas que, jusqu'à très récemment, un grand nombre d'efforts technologiques et culturels de l'humanité très courants actuellement, ainsi que les plus hautes réalisations intellectuelles comme la liberté de la parole et de l'expression, n'étaient que les rêves de certaines personnes.
Cependant, certains ont cru que les rêves peuvent devenir réalité et ont travaillé dans ce sens avec patience et persévérance. Ainsi nous croyons que le monde de l'amour, de la solidarité, de la coopération, tout en acceptant la diversité, est possible !
.
« De main à main et de cœur à cœur »
pour ne pas perdre demain ce que nous avons aujourd'hui, nous joignons les mains et nos cœurs dans une étreinte.
À l'avenir, il y aura une terre pour tous indépendamment de sa nationalité.