POUR LE RESPECT DU DROIT DE VISITE CLAUDE MANGIN EN GRÈVE DE LA FAIM DEPUIS LE 18/04/2018!!!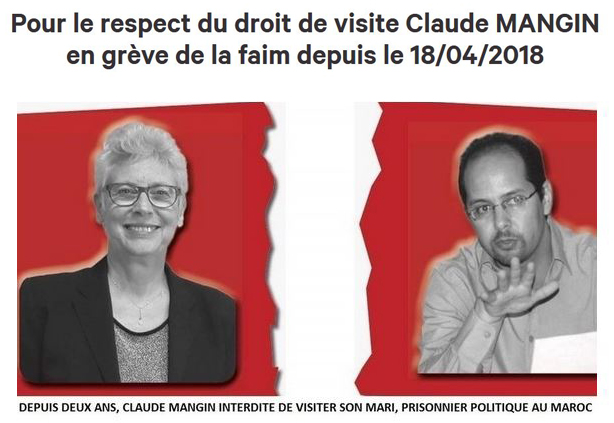 POUR LE RESPECT DU DROIT DE VISITE CLAUDE MANGIN EN GRÈVE DE LA FAIM DEPUIS LE 18/04/2018!!!
Claude Mangin-Asfari, est l'épouse de Naâma Asfari, prisonnier politique sahraoui au Maroc.
Pétition (fr/esp and eng): https://www.change.org/p/pour-le-respect-du-droit-de-visite…
………..
APPEL au Président de la République française
Pour le respect du droit de visite à son mari de Claude Mangin-Asfari, en grève de la faim depuis le 18 avril 2018.
Claude Mangin-Asfari, citoyenne française et enseignante dans un collège de la région parisienne, est l'épouse de Naâma Asfari, prisonnier politique sahraoui au Maroc.
Ce lundi 16 avril, pour la quatrième fois en près de deux ans, Claude Mangin-Asfari s'est vu refuser l'accès au territoire marocain, sans motif exprimé. Ce refus équivaut à une interdiction de visite à son mari, soit une atteinte grave à son droit élémentaire à une vie privée et familiale.
Claude a décidé d'entamer une grève de la faim illimitée pour obtenir la restauration de son droit de visite à son mari Naâma actuellement détenu à la prison de Kénitra au Maroc.
Avant octobre 2016, Claude Mangin Asfari avait pu rendre régulièrement visite à Naâma, condamné à 30 ans et incarcéré depuis novembre 2010. Le premier refus de visite, en octobre 2016, est intervenu à un moment bien particulier, celui où le Comité contre la Torture de l'ONU (CAT) examinait favorablement la plainte de Naâma Asfari pour torture.
L'avis définitif du CAT, rendu le 12 décembre 2016, a reconnu concernant Naâma la violation par l'État marocain de plusieurs articles de la Convention contre la Torture et autres peines ou traitements cruels, inhumains ou dégradants. Le CAT a invité expressément le Royaume du Maroc « à s'abstenir de tout acte de pression, d'intimidation ou de représailles susceptibles de nuire à l'intégrité physique et morale du plaignant et de sa famille et de permettre au plaignant de recevoir des visites de la famille en prison ». Nous considérons que ces interdictions de séjour constituent des représailles, à l'encontre de Naâma et de son épouse, qui violent les recommandations du CAT.
Nous appelons le Président de la République française et son gouvernement à mettre tout en œuvre pour que les autorités marocaines permettent à Claude Mangin-Asfari de pouvoir rendre visite à son mari Naâma Asfari.
Notre pays sait se montrer généreux quand le Roi du Maroc a besoin de soins, et nous espérons en retour un geste d'humanité de sa part.
Une cinquantaine de personnalités ont déjà signé cet appel, de tous horizons, Javier Bardem, Pierre Richard et plusieurs autres comédiens et musiciens, Pierre Laurent, Noël Mamère, José Bové et de nombreux élus, Alain GRESH ex directeur du Monde Diplomatique, Monseigneur Gaillot et d'autres hommes d'église.
Premières signatures : Philippe BOUYSSOU, Maire d'Ivry-sur-Seine - Marie Hélène AMIABLE, Maire de Bagneux - Guy AURENCHE, Avocat honoraire – Marco BALBONI, Université de Bologne (Italie)- Isaias BARRENADA B, Professeur relations internationales (Espagne)- Javier BARDEM, acteur - Claudine BASCHET, Comédienne – Ménotti BOTTAZZI, Militant de la solidarité internationale - Yasmine BOUDJENAH, 1ère adjointe à la Mairie de Bagneux - Anissa BOUMÉDIENNE, Avocate et universitaire – Jacques BOUTAULT - Maire du 2e arrondissement de Paris – José BOVÉ, Député européen – Me Joseph BREHAM, Avocat - Alban BRUNEAU, Maire de Gonfreville l'Orcher – Laurence COHEN, Sénatrice du Val-de-Marne - Emmanuel DAOUD, Avocat au barreau de Paris - Anne Sophie DENOLLE, Université de Nîmes - Laboratoire CHROME – Meriem DERKAOUI , Maire d'Aubervilliers – Tidiane DIAKITE, Historien et écrivain –Laure DUTHILLEUL, Actrice réalisatrice - The Hon John DOWD AO QC, Former Attorney-General of New South Wales and former Justice of the Supreme Court of New South Wales (Australie) – Mireille FANON MENDÈS-FRANCE, Présidente de la Fondation Franz Fanon – Hervé FÉRON, Maire de Tomblaine –Bernadette FORHAN, Présidente de l'ACAT - Jacques GAILLOT, Évêque de Partenia – Fabien GAY, Sénateur de Seine-Saint-Denis – Michelle GREAUME, Sénatrice du Nord – Alain GRESH, Journaliste – Aminatu HAIDAR, Présidente du CODESA – Olivia HICKS, Adjointe au Maire du 2ème arrondissement de Paris - Prof. Sarah JOSEPH, Director, Castan Centre for Human Rights Law, Monash University, Melbourne (Australie) - Jean-Claude KENNEDY, Maire de Vitry – Kerry KENNEDY, President of Robert F. Kennedy Human Rights (USA) - Annie LAHMER, Conseillère Régionale EELV - Pierre LAURENT, Secrétaire national du PCF, sénateur - Renée LE MIGNOT, Co-présidente du MRAP - Jean-Paul LECOQ, Député - Cate LEWIS, Vice-President Australia Western Sahara Association - Bernard LUBAT, Musicien - Christian MAHIEU, Réseau syndical international de solidarité et de luttes - Noël MAMERE, Journaliste - Hon. Chief Zwelivelile MANDELA, MP, Parliament of South Africa - Édouard MARTIN, Député européen - André MINVIELLE, Musicien – Me Olfa OULED, Avocate - Mgr Claude RAULT, Évêque émérite de Laghouat (Algérie) - Aline PAILLER, Journaliste - Ernest PIGNON-ERNEST, Artiste plasticien - Henri POUILLOT, Président Sortir du colonialisme - Christine REVAULT D'ALLONNES BONNEFOY, Députée européenne - Pierre RICHARD, Acteur – Laurent RUSSIER, Maire de Saint-Denis - Sabine SALMON, Présidente Femmes Solidaires - Jean-Pierre TUQUOI, Journaliste – Sophie TAILLÉ-POLIAN, Sénatrice - Bodil VALERO, Vice-présidente du groupe des Verts/Alliance libre européenne au Parlement européen - Daniel VOGUET, Avocat – François WALTER, Président de la Fondation ACAT - Isabelle THOMAS, Vice-présidente du Groupe de l'Alliance Progressiste des Socialistes et Démocrates au Parlement européen - Julien BAYOU, conseiller régional Ile de France - Ingrid METTON, Avocate - Hicham MANSOURI, Journaliste réfugié politique en France - Peter BROOK, metteur en scène et réalisateur
//////////////////////////////////////////////////////////////////////////////////////////////////////////////////////////////////////
APPEAL to the President of France
In support of the right of Claude Mangin-Asfari, on hunger strike since 18 April 2018, to visit her husband.
Claude Mangin-Asfari, a French citizen and teacher at a college in the Paris region, is the wife of Naâma Asfari, a Saharawi political prisoner in Morocco.
On Monday, April 16th, for the fourth time in nearly two years, Claude Mangin-Asfari was denied access to the Moroccan territory, without being given any particular reason. This refusal amounts to a ban on visiting her husband, which is a serious violation of her basic right to a private and family life.
Claude has decided to go on an indefinite hunger strike to obtain the restoration of her right to visit her husband Naâma currently held in Kenitra prison in Morocco.
Before October 2016, Claude Mangin Asfari had been regularly able to visit Naâma, condemned to 30 years and incarcerated since November 2010. The first refusal for her visit, in October 2016, took place at a very special moment, when the Committee against Torture of the UN (CAT) favorably considered Naâma Asfari's complaint of torture.
The final opinion of the CAT, issued on December 12, 2016, recognized, regarding Naâma Asfari, the violation by the Moroccan State of several articles of the Convention against Torture and Other Cruel, Inhuman or Degrading Treatment or Punishment. The CAT has expressly invited the Kingdom of Morocco "to refrain from any act of pressure, intimidation or reprisals likely to harm the physical and moral integrity of the complainant and his family". We consider that these travel bans constitute reprisals against Naâma and his wife, and that these bans violate CAT's recommendations.
We call on the President of France and his government to make every effort to ensure that the Moroccan authorities allow Claude Mangin Asfari to visit her husband Naâma Asfari.
France knows how to be generous when the King of Morocco needs medical care, and we hope in return for a gesture of humanity on his part.
//////////////////////////////////////////////////////////////////////////////////////////////////////////////////////////////////
LLAMAMIENTO al Presidente de la República francesa
Para el respeto del Derecho de la Señora Claude Mangin-Asfari a visitar su esposo, en huelga de hambre desde el 18 de abril de 2018.
Claude Mangin Asfari, ciudadana francesa y profesora en un colegio de la región parisina, es la esposa de Naâma Asfari, preso político saharaui encarcelado en Marruecos.
El 16 de abril de 2018, y por cuarta vez en dos años, a Claude Mangin Asfari se le denegó el acceso al territorio marroquí donde tenía la intención de visitar a su marido. Las autoridades marroquíes, sin dar ninguna explicación, le prohibieron la visita, lo que constituye una violación de su derecho elemental a una vida privada y familiar,
Claude ha decidido iniciar una huelga de hambre ilimitada para conseguir la restitución de su derecho a visitar a su marido, Naâma Asfari, actualmente detenido en la cárcel de Kenitra, en Marruecos.
Desde noviembre de 2010 hasta octubre de 2016, Claude Mangin Asfari pudo visitar periódicamente a su marido. La primera vez que las autoridades marroquíes le prohibieron el acceso se produjo en Octubre de 2016, en un momento muy especial, justo cuando el Comité contra la Tortura de la ONU (CAT) examinaba favorablemente la denuncia por tortura presentada por Naâma Asfari.
El dictamen final del CAT, emitido el 12 de diciembre de 2016, reconoció, con relación a Naâma, la violación por el Estado marroquí de varios artículos de la Convención contra la Tortura y otras penas y tratamientos crueles, inhumanos o degradantes. El CAT invitó explícitamente el Reino de Marruecos a «abstenerse de cualquier acto de presión, intimidación o de represalias que pueda dañar la integridad física y moral del denunciante y de su familia ». Consideramos que estas prohibiciones de estancia violan las recomendaciones del CAT por cuanto constituyen represalias, en contra de Naâma y de su esposa.
Llamamos al Señor Presidente de la República francesa y a su gobierno a hacer cuanto esté a su alcance para que las autoridades marroquís permitan a Claude Mangin Asfari visitar a su marido.
Francia sabe mostrarse generoso cuando el Rey de Marruecos necesita asistencia médica, y esperamos a cambio un gesto de humanidad de su parte.