Seeds Of Freedom - Collaboration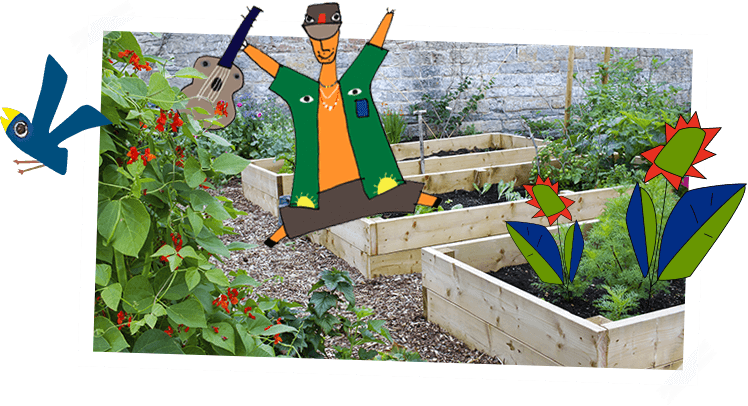 ENGLISH
The song and section "Seeds of Freedom" is open to all of you! Make your own video, sing your own text on the subject, use the instrumental version if you like it... or simply send a text, a song or a message… all your contributions are welcome and will be read, watched and widespread if you find them important and/or interesting!!
This is dedicated to the struggle against destructive agriculture. Chemical intensive forms of production pollute the environment, accelerate biodiversity loss and massively contribute to the death of soils and the global warming. THERE IS ANOTHER WAY: MILLIONS OF PEOPLE FIGHT FOR A SUSTAINABLE FUTURE!!!!
ESPANOL
La canción y apartado "Seeds of Freedom" (Semillas de Libertad) está abierto a todos! Haz tu propio video, canta tu propio texto sobre el tema, usa el instrumental si te gusta … o , simplemente, envía un texto, una canción o un mensaje… todas tus colaboraciones son bienvenidas y serán leídas y difundidas si a ti te parece necesario y/o interesante.
Dedicamos este apartado a la lucha a favor de las semillas libres y contra la agricultura destructiva. Las formas de producción intensiva de sustancias químicas contaminan el medio ambiente, aceleran la pérdida de biodiversidad y contribuyen masivamente a agredir los suelos fertiles del planeta y al su calentamiento global. HAY OTROS CAMINOS: MILLONES DE PERSONAS LUCHAN POR UN FUTURO SOSTENIBLE!!! ES UNA EMERGENCIA !
FRANCAIS
La chanson et la page "Seeds of Freedom" est ouverte a tous! Faites votre propre vidéo, chantez votre propre texte sur le sujet, mixez le sur l'instrumental si vous le voulez … …ou bien tout simplement enregistrez votre texte, chanson ou message sur votre telephone, petit studio ou autres supports et envoyez le nous … … tous les témoignages seront bienvenus à lire ou à diffuser si vous le souhaitez et le jugez nécessaire et/ou intéressant.
Cette page n'a d'autre but que de contribuer à la lutte pour les semences libres et contre l'agriculture intensive et destructrice. Le recours massif aux produits chimiques pollue l'environnement, accélère l'appauvrissement de la biodiversité et contribue en outre à l'agression de tous les sols fertiles de la planète ainsi qu'à son réchauffement climatique. IL EXISTE UNE ALTERNATIVE : QUE DES MILLIONS DE PERSONNES S'UNISSENT ET REFLECHISSENT A UN AVENIR DURABLE POUR TOUS !!!
Download
Instrumental version
here
LYRICS : SEEDS OF FREEDOM
SEEDS OF FREEDOM
time has come 
SEEDS OF FREEDOM
life will overcome 
SEEDS OF FREEDOM
gimmy some      I need some
SEEDS OF FREEDOM
life will overcome 
Small seed big tree
gardens of hope 
Wind blows seed goes
from hand to hand
SEEDS OF FREEDOM 
time as come 
SEEDS OF FREEDOM
life will overcome
Small seed big tree
gardens of hope 
everywhere just to share
gardens of hope 
SEEDS OF FREEDOM 
time as come 
SEEDS OF FREEDOM
life will overcome
SEEDS OF FREEDOM 
time as come 
SEEDS OF FREEDOM
life will overcome
little by little  almighty
freedom for seeds
no more slavery
freedom for seeds emergency
no more suicides and cruelty
SEEDS OF FREEDOM 
time as come 
SEEDS OF FREEDOM
life will overcome
SEEDS OF FREEDOM
all we need is some
SEEDS OF FREEDOM
life will overcome 
little by little  almighty
spread in the air of society
gardens of hope growing slowly
its time to fight insanity
SEEDS OF FREEDOM 
time as come 
SEEDS OF FREEDOM
life will overcome GOSPELX2 
SEEDS OF FREEDOM 
last chance to save humanity
SEEDS OF FREEDOM 
stand up together be ready steady
be ready… be ready
be ready …be ready…be ready ..be ready
spread in the air of society (be ready)
gardens of hope growing slowly
its time to fight insanity… (be ready)
last chance to save humanity
be ready …be ready
from seed come seed
from hand to hand 
last chance to save humanity
suddenly almighty
stand up together be  ready X4 
Small seed big tree
gardens of hope
last chance to save humanity
be readyX2
Wind blows seed goes
from hand to hand
stand up together almighty be ready be ready
almighty…be ready
suddenly …almighty…be ready
suddenly …almighty…be ready
You can also send a direct email to seedsofreedom@gmail.com if you need to send a file
Your collaborations:
..............................
..............................
MÚSICA CONTRA MONSANTO. DISCO 1!!!
Música dedicada a la lucha por la vida que denuncia los agrotóxicos, los desmontes para el monocultivo, los desplazamientos forzados, los O.V.G.M. y los transgénicos como un ataque al ADN, la biodiversidad, el agua y la tierra cultivable.
..............................
"The ROCKFARMERS" UN DOCUMENTAIRE sur INSPECTOR CLUZO!!!
Le documentaire de Yan Sourigues "Rockfarmers" raconte le "Pourquoi" devenir musiciens/ paysans professionnels et le "Comment" mettre en application des convictions sur une économie locale tournée vers le monde et les autres.
Rockfarmers spanish:
https://www.youtube.com/watch?v=9nrMYkrk7Gs
More info: www.theinspectorcluzo.com
..............................
MONSANTO'S ACTIVITIES HAVE NEGATIVE IMPACT ON BASIC HUMAN RIGHTS 
(Tribunal Monsanto Results)
On Tuesday April 18th the five international judges of the Monsanto Tribunal presented their legal opinion. They have come to important conclusions, both on the conduct of Monsanto and on necessary developments in international law. The judges conclude that Monsanto has engaged in practices which have negatively impacted the right to a healthy environment, the right to food and the right to health. On top of that Monsanto's conduct is negatively affecting the right to freedom indispensable for scientific research.
More info at: http://www.monsanto-tribunal.org/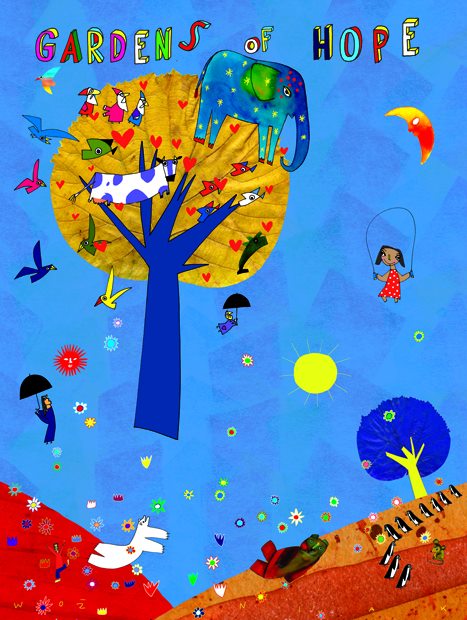 Drawing made by: Jacek Wozniak
..............................
Red de Semillas. Resembrando e intercambiando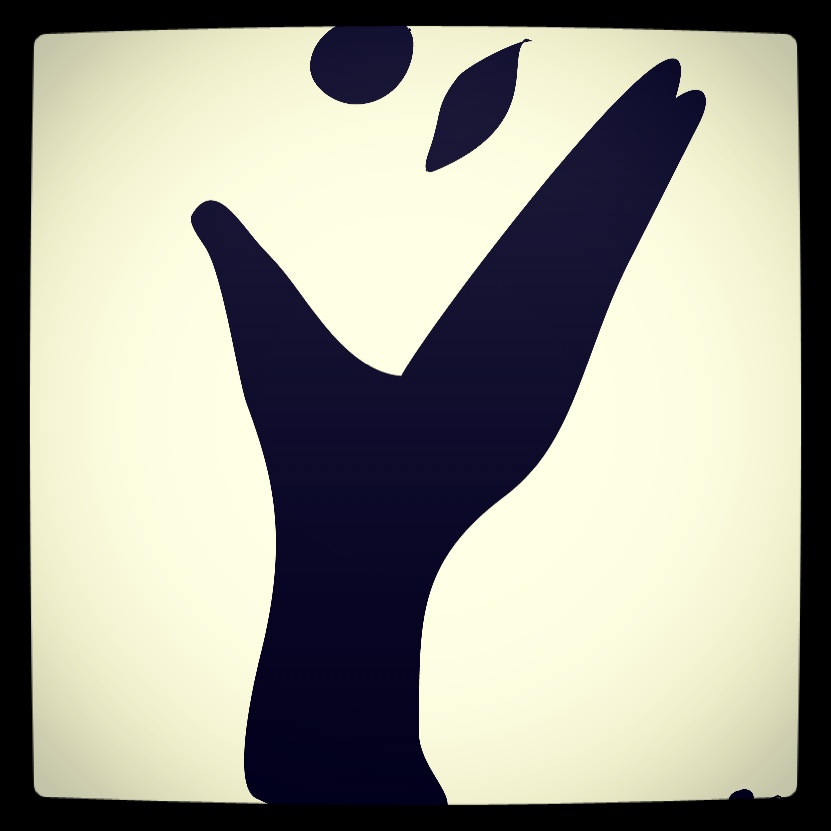 La Red de Semillas "Resembrando e Intercambiando" (RdS), es una organización descentralizada de carácter técnico, social y político, que ha trabajado durante los últimos 10 años en reunir esfuerzos entorno al uso y conservación de la biodiversidad agrícola en el contexto local, estatal e internacional. Y que tiene como objetivo primordial el facilitar y promover el uso, producción, mantenimiento  y conservación de la biodiversidad agrícola en las fincas de lo agricultores y en los platos de los consumidores debido a la grave pérdida de recursos genéticos que asola a la agricultura y ganadería, de la que ya llevamos perdida en el último siglo más del 75%, según datos de la FAO.
Contacto Coordinación: Caracola del C.I.R. – Parque de San Jerónimo, s/n 41015 Sevilla
Tel.: 954 40 64 23 Móvil: 650 102 339
Correo-e: correo@redsemillas.info
Web: www.redsemillas.info
Web: www.siembratusderechos.info
..............................
''Que mangeons-nous vraiment ? De la terre à l'assiette'', 
(France 3, 2015, 95 min).
Ce documentaire politique et économique, véritable "road-movie" à travers champs et campagnes sur tout le territoire français, dissèque la politique agricole qui a dessiné le contenu de nos assiettes, interroge l'agriculture moderne et décrypte son saut vertigineux dans la mondialisation après quatre décennies d'industrialisation. 
Auteurs : Linda Bendali, Sophie Le Gall
Production : Little Big Story
..............................
Mort des sols = mort des hommes !
Claude et Lydia BOURGUIGNON
Crée par Claude et Lydia Bourguignon, le LAMS est un laboratoire d'analyse de sol spécialisé dans l'étude écologique de profil cultural pour restaurer la biodiversité des sols de terroir afin d'améliorer la qualité et la typicité des denrées agricoles.
Page web et Contact: http://www.lams-21.com
LAMS / Lydia et Claude Bourguignon 
5 rue de Charmont 21120 Marey sur Tille ( Côte d'Or )
Tel 03 80 75 61 50  
More videos:
La mort intensive des sols
9'48"
Journée consacrée aux pratiques agricoles respectueuses des sols
..............................
GREECE CALLING FOR SEEDS CARE AND FREEDOM!!!!
PELITI FESTIVAL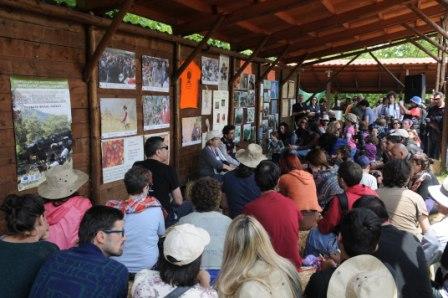 Peliti festival has inspired since 1999, thousands of people in Greece, and in other countries.
One of their philosophical principles is the support of the humans freedom to keep their own seeds so that they are depended neither on the seeds market nor on Peliti's seeds. 
"Traditional seeds cultivation and free offer is a deep political act. "Political" for us means the solution we choose to solve the agricultural, environmental, economic issues of the country, and not only ours".
The Peliti Seed Festival is a picture of the future.
The festival is organized by Peliti : www.peliti.gr 
Supported by:
Center of Environmental Education of Paranestion www.kpeparanestion.gr
Seedfreedom ( worldwide movement for the fredom of seeds ) seedfreedom.info 
Of the Navdanya movement from India www.navdanya.gr
..............................
ASSOCIACIÓ DOLÇA REVOLUCIÓ…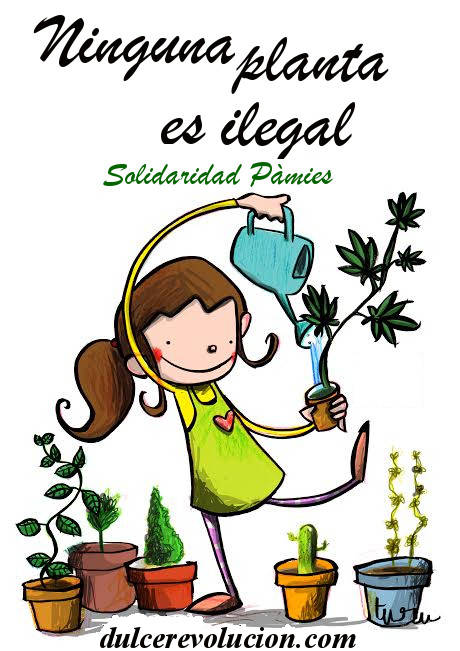 La Dulce Revolución es una asociación sin ánimo de lucro que agrupa a todas las personas que quieran compartir sus experiencias positivas fruto del uso de las plantas medicinales y las terapias naturales no agresivas.
La Stevia y la Dulce Revolución es pues la punta de lanza que permitirá abrir el camino para la recuperación de los conocimientos populares en lo referente al uso de las plantas medicinales en general y a otras terapias naturales de bajo coste.
Más información en: https://dolcarevolucio.cat
..............................
PANG (Bruxelles!!!!): RAP 100% bio!!! 
Parce que l'écologie aussi peut être fun, PANG nous parle des alternatives durables de manière positive et décomplexée.
Les 3 MCs (Rien à Dire, Monkey Mix et Flo)
mettent à contribution la palette de leurs talents : flow, beatbox, folie... au service d'un show énergique !
RAP 100% bio!!!
PANG (feat Monkey Mix). Les potes à Jé 
..............................
LOTROMONDE
Un petit slideshow vaut mieux qu'un long discours, Lotromonde aux journées du développement durable...
MORE INFO: http://www.lotromonde.net/
..................................
World Permaculture Association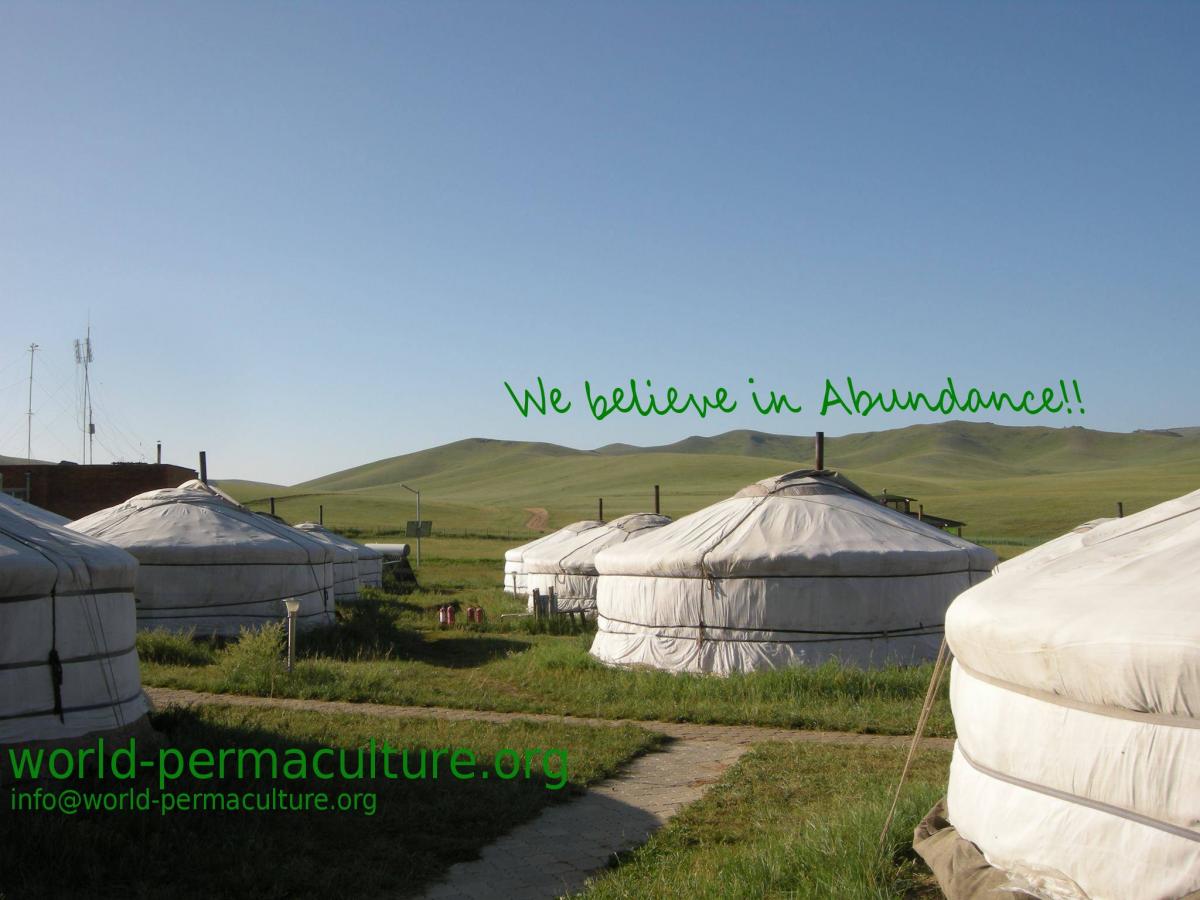 The World Permaculture Association is a not-for-profit organization whose MISSION is to mobilize and inspire people working towards improving & increasing ecosystem function globally through the application of Permaculture principles.
Key to Permaculture is the design of functional agro-ecosystems: patterns and relationships between species that occur in the wild are applied in the designed ecosystem.
The World Permaculture Association hold several projects, services and continuous trainings in the Ecosystem Restoration Camps in Spain where it is contribuiting to build a "Research, Training and Innovation Center for Ecological Restoration" to engage people in inquiry into ecological restoration, to train people in existing techniques and for the innovation of new techniques for restoring degraded lands in perpetuity.
Join the World Permaculture Association:
www.ecosystemrestorationcamps.org 
.........................
Monsanto Tribunal and the March against Monsanto 18th MAY in Bregenz/ Austria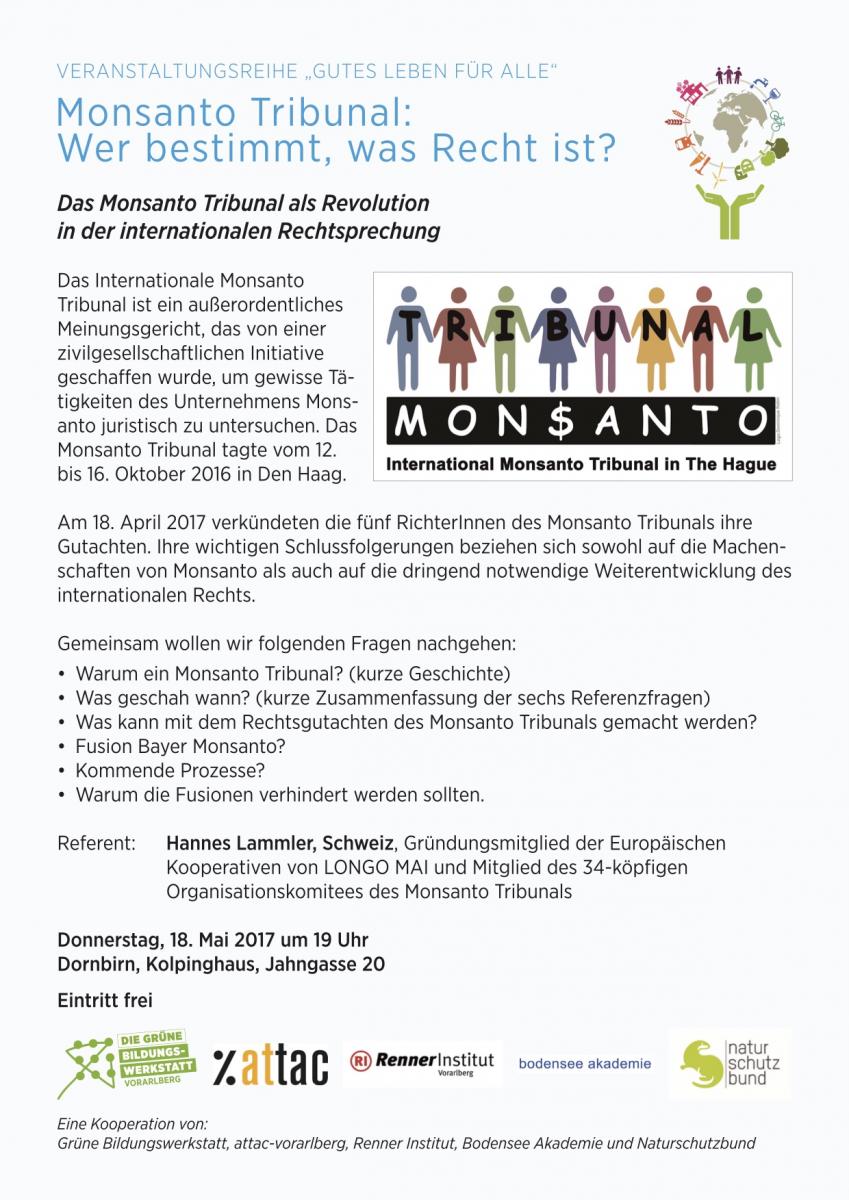 ..................................
IRISH SEED SAVERS
Our main objective is to conserve Ireland's very special and threatened plant genetic resources.
Our work focuses on the preservation of heirloom and heritage food crop varieties that are suitable for Ireland's unique growing conditions. 
Irish Seed Savers Association maintains the country's public seed bank with over 600 non-commercially available varieties of seed. We conserve and grow heritage apple trees and other fruit tree varieties. We run workshops throughout the year on various topics to help inform and teach others how to save seeds and grow their own food and be self-sustainable and to help encourage greater food security for future generations. We Grow, Preserve, Conserve and Share both our seeds, our knowledge and our love for the land. You can find information on our workshops and how to follow us throughout our website.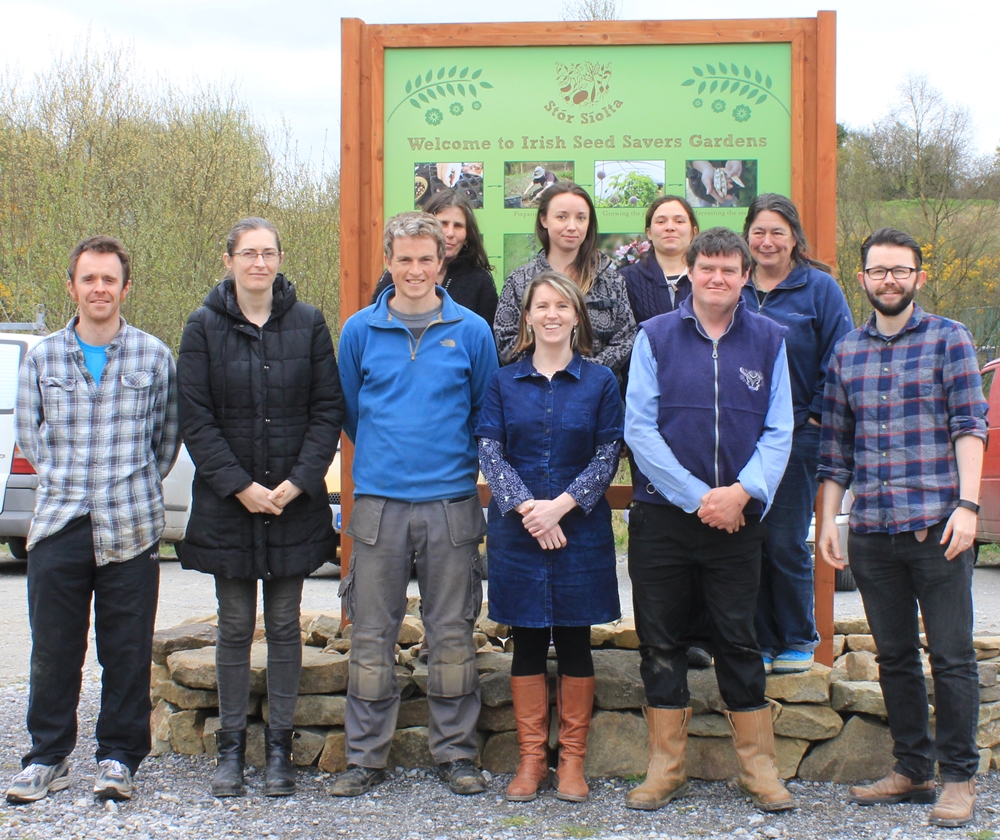 .....................................
SUPERARBOL  Y PACHAMAMA
de Graciela Vizcarra
La tala de árboles es parte del problema del cambio climático.  Evitemos la deforestación.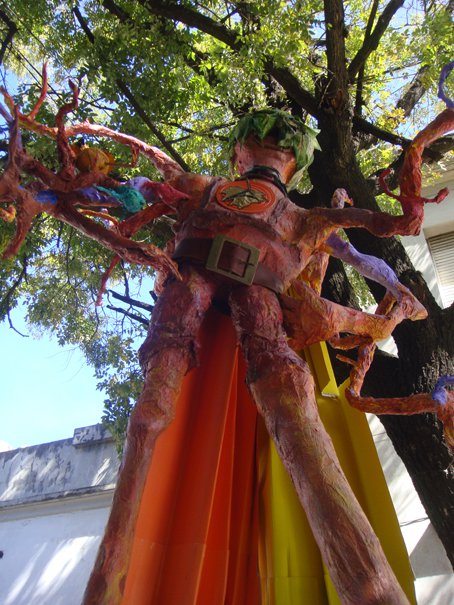 "PACHAMAMA"
Madre Tierra todos los humanos tenemos la responsabilidad de quererte y cuidarte NO de EXPLOTARTE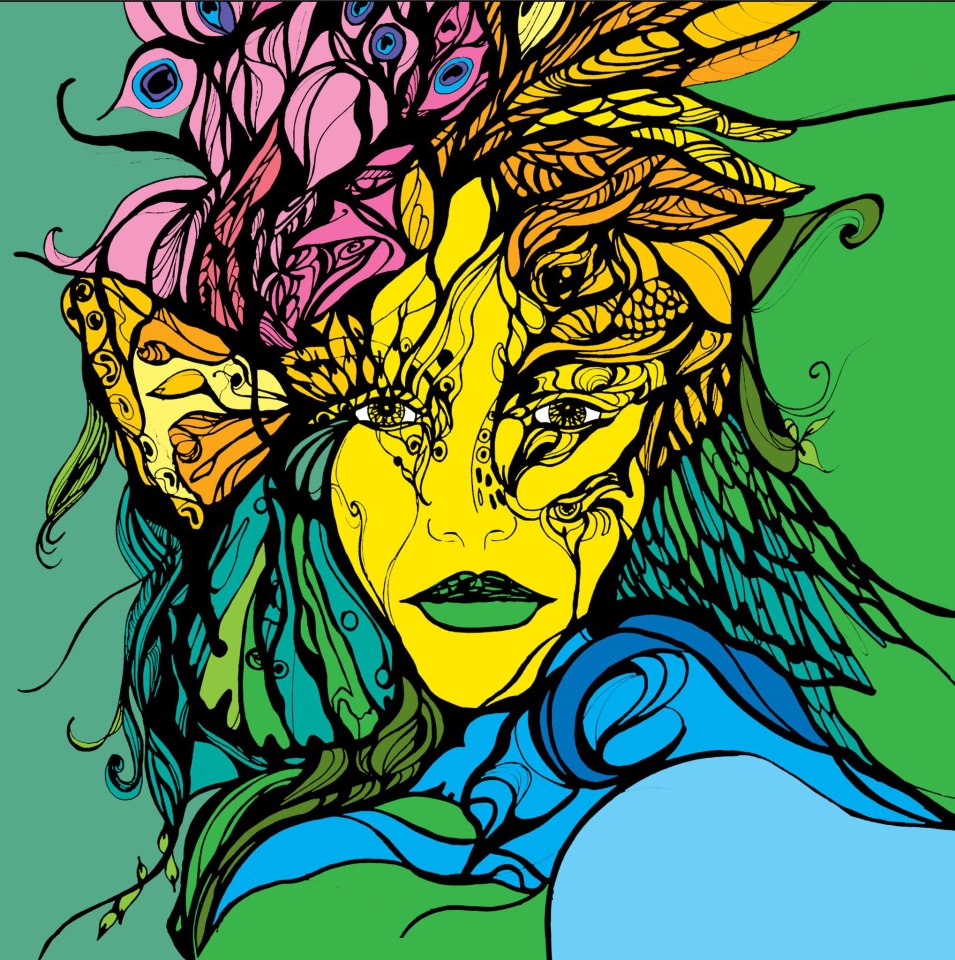 Más info en:
https://www.facebook.com/GGracielaVizcarra
https://es-es.facebook.com/ManoDeMona
https://www.instagram.com/manodemona/
.....................................
LOUP LARDOT
5 cm par seconde (Seeds of freedom remix)
Clip réalisé par Camille Demizieux.
............................
Andrea-Puchi /// "Monsanto"(Otoño)
ASSOTIATION TOUT DANS LE MÈME BATEAU
Nous avons semé un festival, nous avons récolté un potager, des vergers, des initiatives vertueuses…
PLUS INFO: www.tousdanslememebateau.fr
Giddyhead feat Nicolas Hulot
Seeds of Freedom
The Choice Is Up To Us by Bloom (Robin Liepman)
www.facebook.com/BloomMusicPage
.........................
JUHA
Every Step You Take Is A Migration 
TULIPE
2ème édition du festival ECO-CITOYEN WHAT THE FEST?!#2 [BACK IN THE USSR]
à Vendargues (Montpellier) du 7 au 9 juillet 2017
Un festival durable, solidaire, local et révolutionnaire!!!
What The Fest?! est  l'éco-festival le plus ovniesque et le plus cool de la zone sud France alliant accessibilité au plus grand-nombre, promotion d'artistes émergents,  éco-citoyenneté, promotion de l'écologie, protection animale, circuits courts, thérapie douce, permaculture, troc de graines, et des initiatives concrètes pour changer le monde de demain !
Samedi 8 juillet et dimanche 9 juillet , de 10h à 20h en accès gratuit, vous attendent dans un espacé protégé et autour d'une rivière :
-  Le Petit marché | 40 exposants ou associations  + une Gratiferia 
-  Un marché retro-vintage | Vinyls, brocante et friperies
-  Une étrange Soviet Fun Zone avec un clin d'oeil à l'époque Guerre Froide avec animations pour petits et grands et lâcher de Soviet Clowns et tellement de choses qu'on ne peut tout énumérer. 
- Plus des CONCERTS avec IGORRR, SOVIET SUPREM et GAMBEAT!! en set de DJ Cumbia (entre autres)...
Plus d'INFOS et CONCERT TICKETS : www.whatthefest.com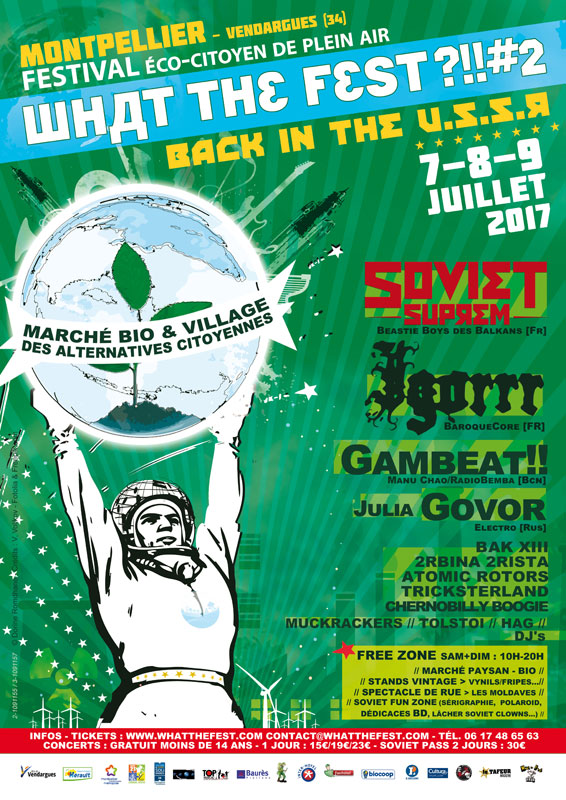 AMAYA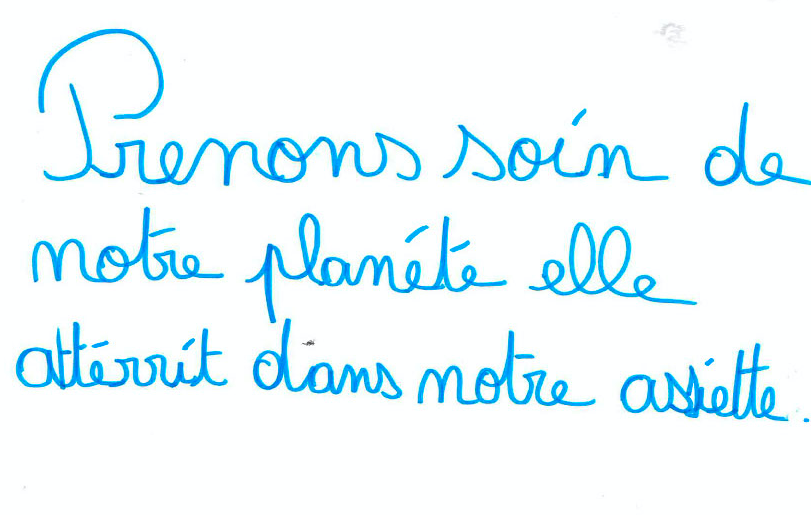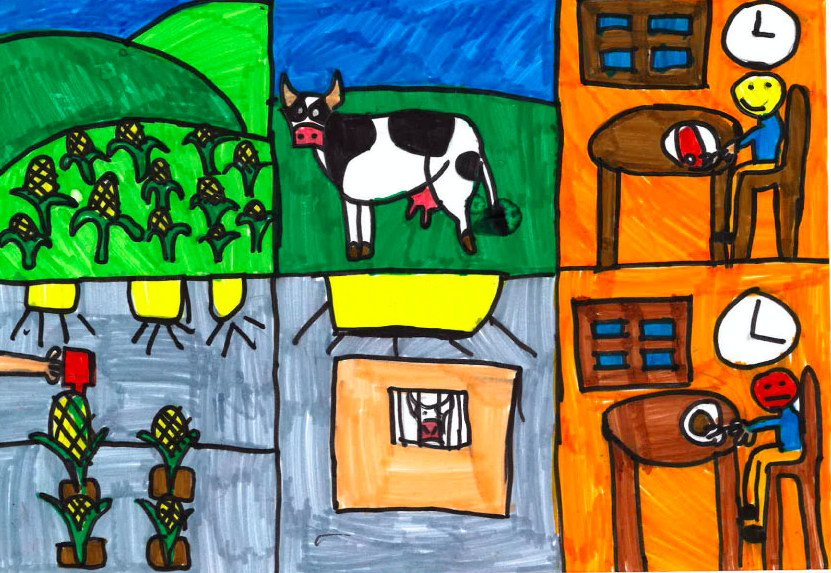 "No a la ampliación de la planta Monsanto, Fuera Monsanto de Paine (CHILE)!"

Marcha familiar en Paine este sábado 20 de Mayo , a las 11.00h
(inicio desde Plaza Paula Jaraquemada)
El Comité por la Defensa de Paine que agrupa distintos organizaciones, colectivos y personas naturales convoca en el contexto de la marcha mundial contra Monsanto a una marcha familiar en Paine este sábado 20 de Mayo , a las 11.00, la movilización se iniciará en la Plaza Paula Jaraquemada y busca visibilizar nuestra organización y lucha contra esta gran transnacional que continua en nuestra comuna con el amparo institucional comunal y nacional y ante lo cual declaramos lo siguiente
1.- Ante la reciente aprobación de la Declaración de Impacto Ambiental, DIA, por parte del Servicio de Evaluación Ambiental y todos los organismos técnicos del Estado, al proyecto de Optimización Planta Seleccionadora de Semillas, de Monsanto S.A., la comunidad de Paine se declara movilizada y en lucha pues no permitiremos que nuestra población siga deteriorando su salud con la aplicación de sus agrotóxicos , como tampoco aceptaremos seguir perdiendo nuestras semillas que constituyen un patrimonio territorial.
2.- No renunciaremos a ejercer nuestro legítimo derecho a la participación ciudadana levantando nuestra voz basado en el Principio Precautorio, recurriremos a todas las instancias jurídicas y administrativas denunciando la complicidad de los organismos técnicos y esta empresa transnacional que solo ha traído muerte y empobrecimiento en todo el mundo. Tampoco renunciaremos a ocupar todos los espacios abiertos por la movilización consciente de nuestra comunidad por el derecho a vivir en un ambiente libre de contaminantes.
3.- Estamos conscientes de la necesidad de fortalecer y aunar esfuerzos con otros colectivos que han luchado por más de 15 años en nuestro país en contra de las semillas transgénicas y la estela de destrucción que ha dejado Monsanto, sabemos que sólo con la unidad y la lucha por nuestra autonomía alimentaria nos permitirá avanzar en el gran propósito de sacar a Monsanto de Paine y de Chile.
No permitirnos la participación ciudadana es simplemente otra forma de negar a las comunidades el ejercicio democrático de decidir sobre los lugares que habitan y deja en evidencia, nuevamente. el distanciamiento que existe entre el Estado y la ciudadanía y su maridaje con los grandes empresarios.
Es por esto que hacemos el llamado a estar atentos y atentas a la situación de nuestra comunidad, porque no daremos pie atrás hasta que se oiga nuestra voz y se tome en cuenta nuestra negativa a este proyecto.
Paine defiende su semilla y lucha contra los transgénicos, ¡a defender nuestro territorio y su soberanía!
Comité por la Defensa de Paine
Más info en: https://www.facebook.com/YoNoQuieroTransgenicos/
FOOD SOVEREIGNTY NIGHT 
MORLAIX (FRANCE)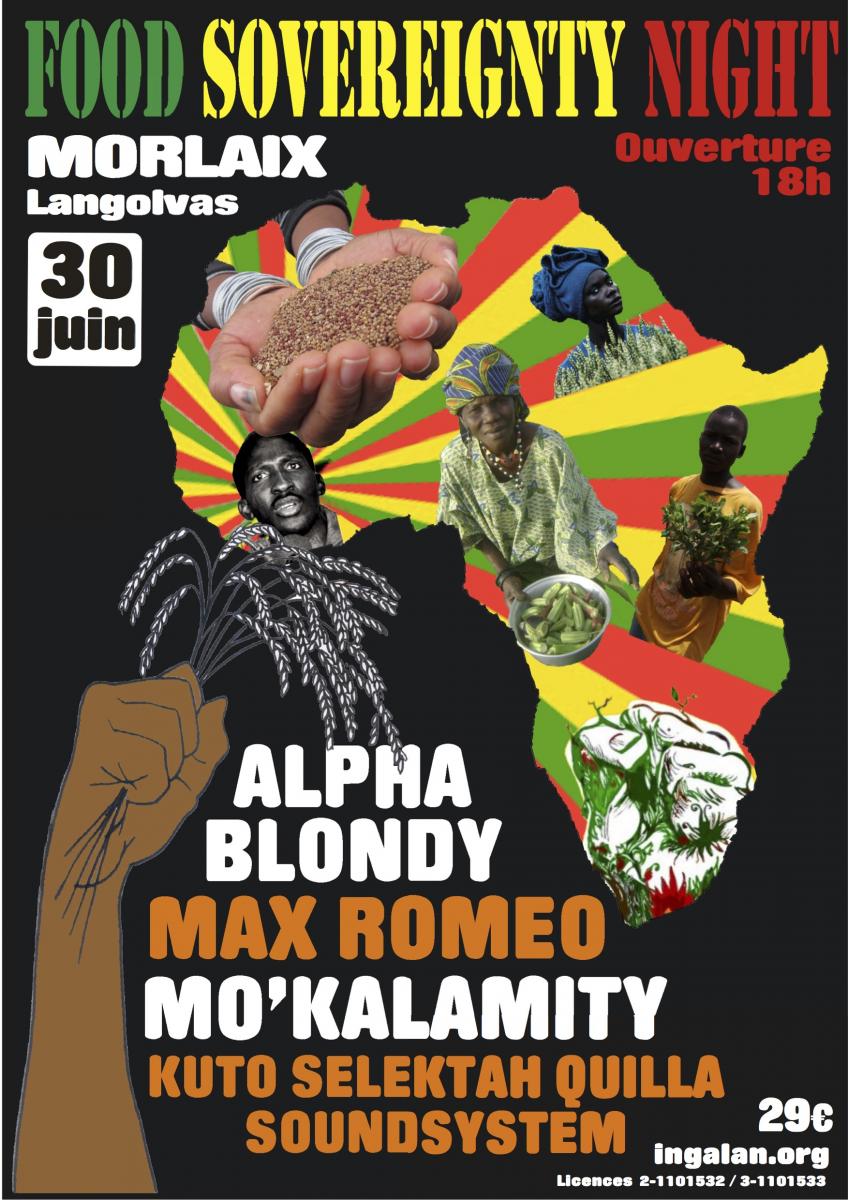 COLECTIVO CAUTIVO "SIEMBRA PURO"
Remix de la canción Seeds of Freedom
A favor de las semillas libres y contra la agricultura destructiva
Gracias a Daniel Martínez y equipo de Colectivo Cautivo !!!!!!
Dibujo realizado por: Jacek Wozniak : http://wozniak.unblog.fr/
"Grãos de Vida" (Marcus Breda) 
LES ABEILLES SONT EN DANGER!!!!  #STOPNEONICS !!!!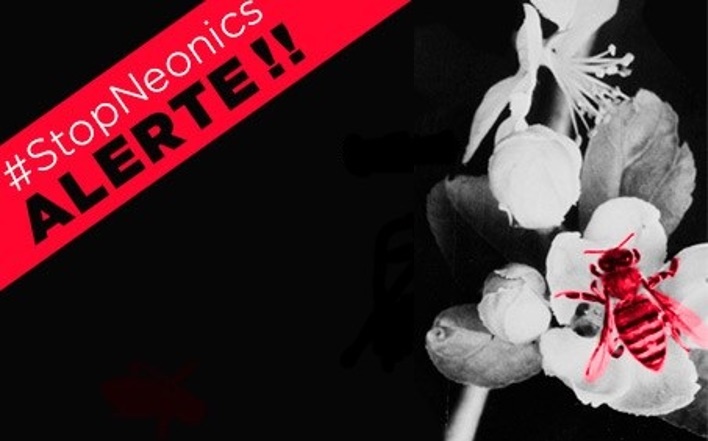 Nous devons agir vite : sous la pression des lobbies de l'agrochimie, la Commission européenne est en train de saboter l'interdiction des pesticides néonicotinoïdes tueurs d'abeilles votée par le Parlement français en juillet dernier.
Cette interdiction, annoncée comme une victoire définitive, a été arrachée de haute lutte par les associations, les apiculteurs et les citoyens, appuyés par quelques députés courageux, après des années de bataille au coude à coude contre les lobbies de l'industrie agrochimique, et une pression gigantesque sur les institutions politiques et parlementaires... 
C'est une trahison insupportable de tous les principes démocratiques qui régissent notre pays, et une nouvelle preuve s'il en faut de la mainmise de l'agrochimie sur les décisions européennes au détriment des abeilles, de la nature, de notre alimentation à tous et de notre santé.
On ne doit pas les laisser gagner cette ultime bataille !
Faites pression sur les nouveaux ministres de la Santé, de l'Environnement, de l'Agriculture, et sur le premier ministre pour qu'ils résistent aux pressions de la Commission, et défendent la parole donnée aux citoyens !
Signez la pétition, c'est urgent
Le 20 juillet dernier, l'Assemblée nationale et le Sénat avaient adopté la loi « Biodiversité », qui prévoit une interdiction des pesticides néonicotinoïdes tueurs d'abeilles à partir de 2018 (1).
Il ne restait plus qu'à signer le décret d'application (2) pour que l'interdiction soit définitivement adoptée - et qu'on arrête dans quelques mois de répandre dans les champs ces substances responsables de la mort de millions d'abeilles et de pollinisateurs sauvages...
Mais pour que le gouvernement puisse le signer, la Commission européenne doit donner son feu vert.
Une opportunité en or pour les multinationales de l'agrochimie, qui se sont engouffrées dans la brèche avec leurs bataillons de lobbyistes, pour convaincre la Commission d'empêcher l'interdiction des tueurs d'abeilles en France – l'enjeu est énorme pour eux : une interdiction en France créerait un précédent qui pourrait ensuite être étendu à toute l'Europe.
Des milliards de profits en moins pour ces énormes multinationales !
Syngenta, Bayer et consorts ont submergé la Commission d'argumentaires juridiques dénonçant la non-conformité de l'interdiction votée en France avec la réglementation européenne (de manière assez grossière, les tueurs d'abeilles sont autorisés en Europe, donc ils ne peuvent pas être interdits en France…) et de messages d'exploitants agricoles subordonnés, enfermés dans un système agricole 100% dépendant de la chimie (3).
Pas une seule association de citoyens et de défenseurs de l'environnement n'a été consultée !
Résultat : les arguments de l'agrochimie sont repris quasiment mot-pour-mot dans un avis de la Commission européenne envoyé à la France le 3 mai dernier, tenu secret jusqu'ici et auquel nous avons eu accès.
Une véritable honte pour la démocratie !
Les ministres français de la Santé, de l'Environnement et de l'Agriculture, qui portent ce dossier, ainsi que le premier ministre, doivent maintenant répondre à ce sabotage en règle de l'interdiction votée par les parlementaires français.
Nous devons agir très vite, pour les empêcher de lâcher le moindre pouce de terrain face aux lobbies et à la Commission, et les obliger à maintenir coûte que coûte l'interdiction programmée des tueurs d'abeilles en France !
Sinon nos cinq années de lutte acharnée contre les néonicotinoïdes tueurs d'abeilles seront rayées d'un trait de plume.
Il faudra repartir de zéro, et l'agrochimie aura de beaux jours devant elle pour faire fructifier ses bénéfices au détriment de la nature et du système alimentaire que nous lèguerons aux générations futures.
Sans pollinisateurs, ce sont plus de 80 % des fruits, légumes et plantes que nous consommons au quotidien qui disparaissent…  Ils sont LE maillon-clef de la chaîne alimentaire : ne les laissons pas disparaître sans réagir !
Les nouveaux ministres viennent de prendre leur poste : on ne sait pas encore quel sera leur positionnement vis-à-vis de l'industrie, mais on peut espérer au moins du ministre de l'Environnement, Nicolas Hulot, après des années de défense de la nature, qu'il entende notre mobilisation !
Il ne pourra pas décider seul, c'est pourquoi il faut mettre tout de suite une pression maximale sur les trois ministres en charge – Santé, Environnement, Agriculture – et sur le premier ministre, dès à présent, pour qu'ils résistent à la menace de la Commission européenne et appliquent l'interdiction des tueurs d'abeilles prévue par la loi française !
Ce texte salutaire a été demandé par les citoyens, et adopté par leurs représentants : le sabotage de la Commission européenne est un intolérable déni de démocratie.
Aidez-nous à informer un maximum de personnes à travers tout le pays, et créer un véritable raz-de-marée de pétitions pour obliger les nouveaux ministres à maintenir l'interdiction des tueurs d'abeilles votée par l'Assemblée nationale et le Sénat :
1> Cliquez ici et signez la pétition
More info in french and english at:  
Semi di Verita. Paula Pitzalis (Sardegna) 
Progetto "Seeds of Freedom" Sardegna.
Con la partecipazione di: Gianni, Giacomo, Isa, Nicola e Marco Ballicu, Stefano Cocco e le Api di Patrizia Piras
.................................................
Colectivo de Semillas de América Latina presenta: Semillas ¿Bien común o propiedad corporativa?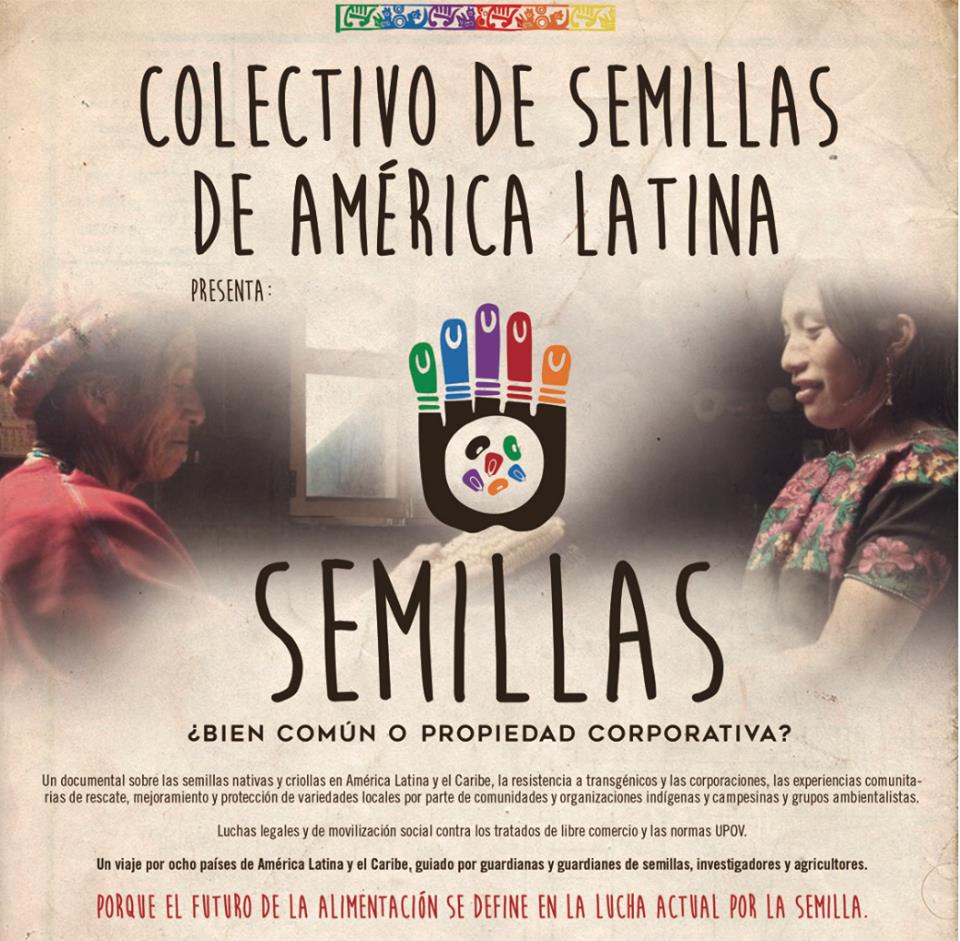 Lanzamiento simultáneo internacional 15 de junio de 2017
ANAFAE de Honduras, Redsag de Guatemala, Red de Biodiversidad de Costa Rica, Grupo Semillas de Colombia, Acción Ecológica de Ecuador, Articulación Nacional de Agroecología de Brasil, Acción por la Biodiversidad de Argentina y GRAIN desde México y Argentina tienen el gusto de presentar y lanzar en forma simultánea el Documental Semillas ¿Bien común o propiedad corporativa? que han producido en forma conjunta y contó con la edición final de Radio Mundo Real de Uruguay.
Semillas ¿Bien común o propiedad corporativa? es un documental donde las protagonistas son las semillas criollas, nativas, nuestras, en manos de las comunidades campesinas y los pueblos indígenas y donde a partir del relato de quienes defienden las semillas criollas y nativas en América Latina desde Ecuador, Brasil, Costa Rica, México, Honduras, Argentina, Colombia y Guatemala podremos compartir sus experiencias y luchas.
Así tendremos un recorrido por la defensa de las semillas nativas como parte integral de la defensa del territorio, la vida y la autonomía como pueblos, la relación entre las mujeres indígenas y las semillas nativas, los flujos de semilla en las comunidades, la historia del origen del maíz, las ceremonias mayas sobre la importancia de las semillas, el agradecimiento y bendición de semillas, ferias e intercambios de semillas, experiencias locales de recuperación y manejo de semillas criollas.
También están presentes las luchas contra las leyes de semillas y contra UPOV 91, contra la imposición de semillas transgénicas, la denuncia de la devastación que implican los transgénicos y la resistencia a las fumigaciones y al avance del agronegocio.
Todo en el marco de la defensa de las semillas como patrimonio de los pueblos al servicio de la humanidad en el camino de la Soberanía Alimentaria
Colectivo de Semillas de América Latina
Contacto: carlos@grain.org, www.grain.org, www.biodiversidadla.org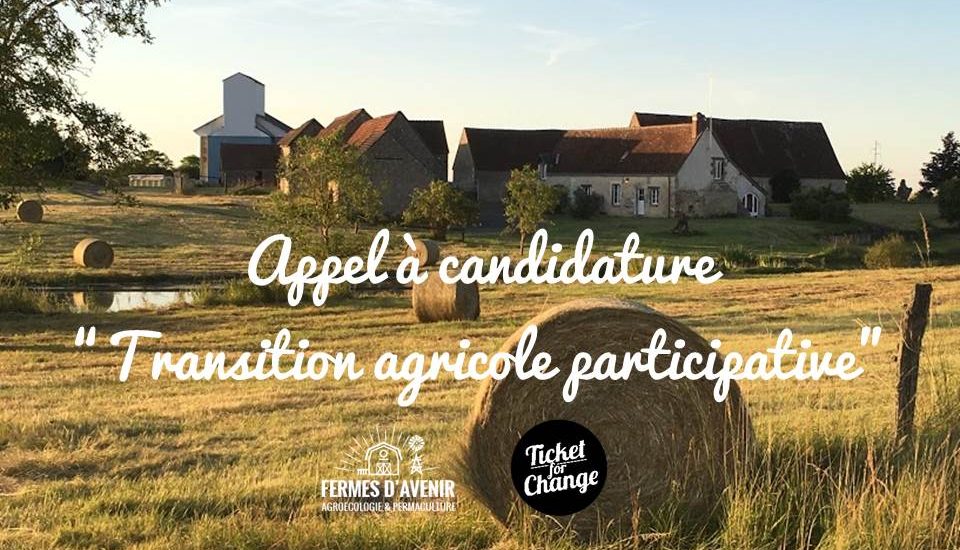 L'agriculture et notre alimentation sont au cœur de nos enjeux de société : nos assiettes nous façonnent et dessinent le monde qui nous entoure, il est aussi urgent que nécessaire de se poser les bonnes questions sur le modèle que nous souhaitons.
L'association Fermes d'Avenir promeut des techniques respectueuses de l'environnement et de notre santé, sensibilise le grand public et interpelle les politiques pour mettre la transition agricole au rang des priorités des années à venir.
.........................................
"Seeds of Freedom garden" in Malawi!!!!
DREAM project, of the Community of Sant'Egidio to fight HIV/AIDS in AFRICA.
Vegetable garden in Blantyre  (Malawi) in order to help 15 families in need and to promote biodiversity and organic agricolture!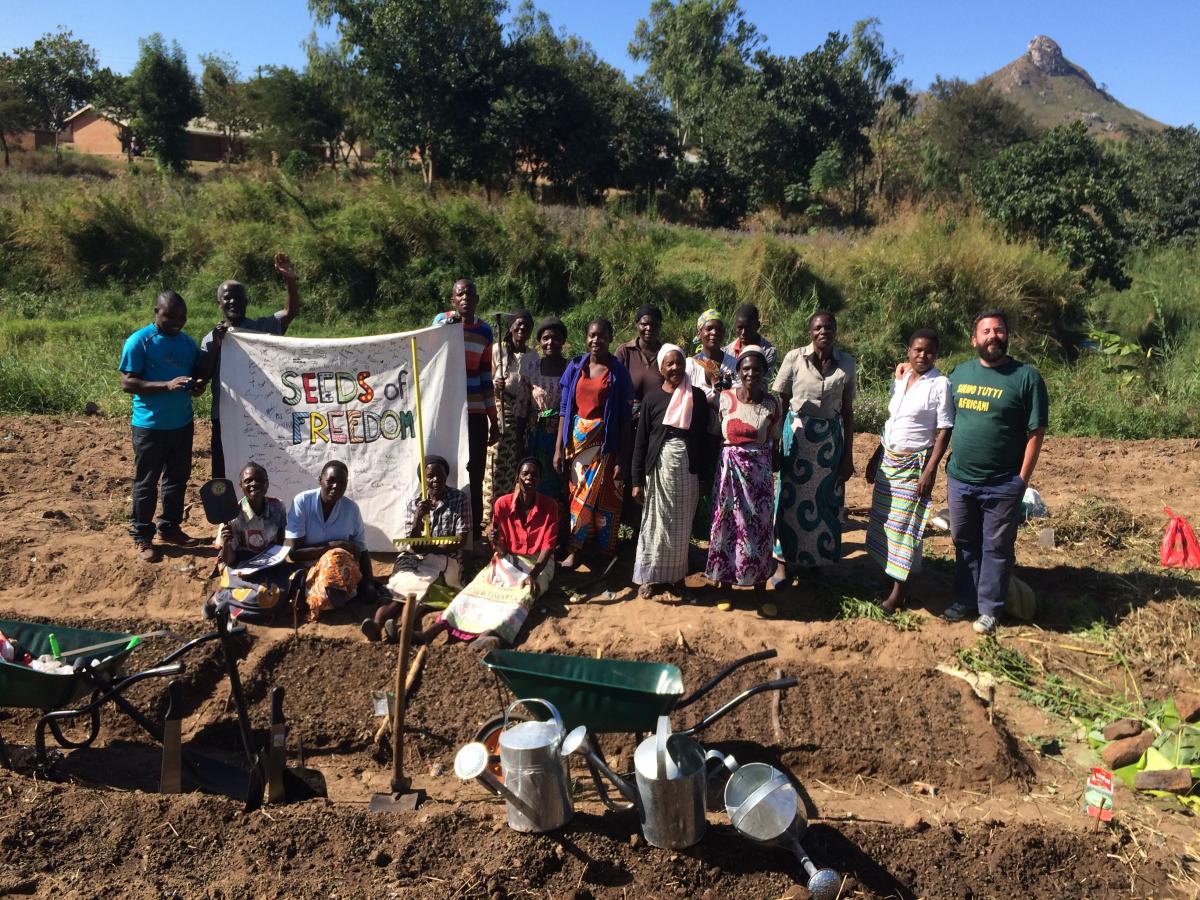 "Semillas desconocen fronteras"
Perú, Valle sagrado de los Incas (Cusco- Urubamba) 
Tazas de cerámica de Yuri Eslava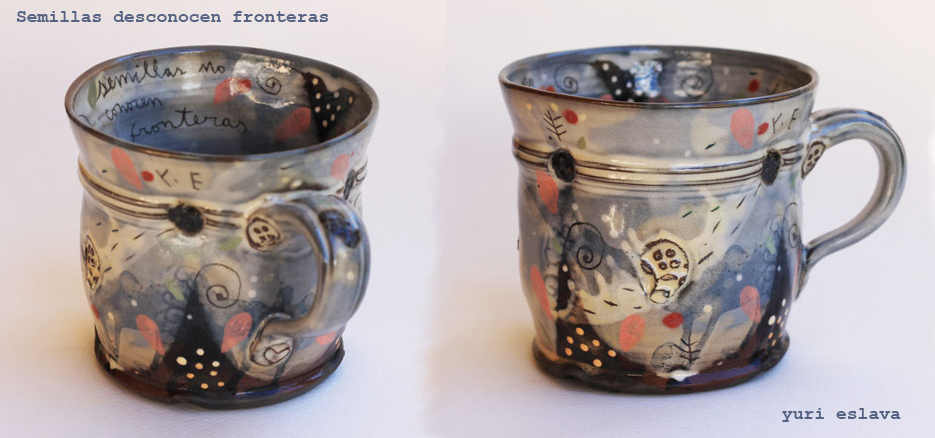 .................................
Feria de Apicultura (Sierra de Cadiz)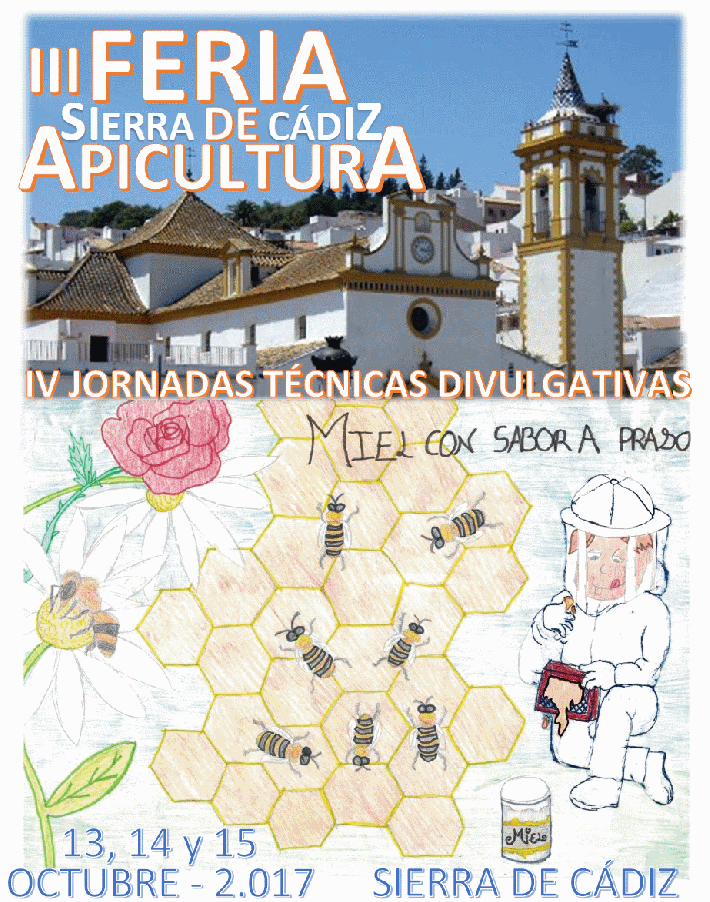 Montaje elaborado con los dibujos de los niños que participaron en el Concurso de dibujo de la Feria del 2016 
facebook.com/feriadeapicultura
REVISTA: BIODIVERSIDAD
sustento y culturas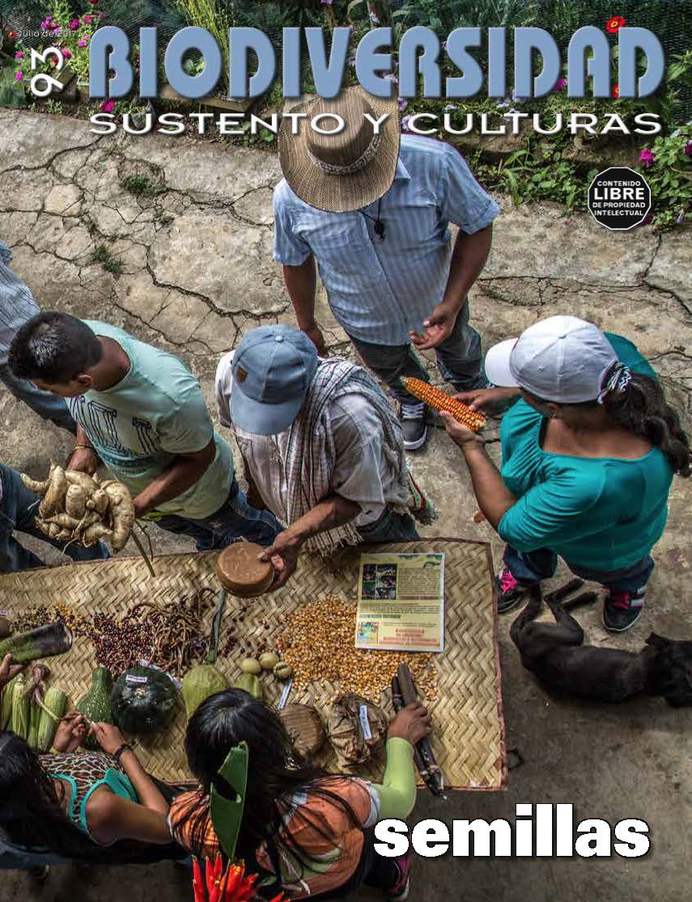 Biodiversidad, sustento y culturas es una publicación trimestral de información y debate sobre la diversidad biológica y cultural para el sustento de las comunidades y culturas locales. El uso y conservación de la biodiversidad, el impacto de las nuevas biotecnologías, patentes y políticas públicas son parte de nuestra cobertura. Incluye experiencias y propuestas en América Latina, y busca ser un vínculo entre quienes trabajan por la gestión popular de la biodiversidad, la diversidad cultural y el autogobierno, especialmente las comunidades locales: mujeres y hombres indígenas y afroamericanos, campesinos, pescadores y pequeños productores.
Para acceder a la revista en formato digital:  Revista Biodiversidad, sustento y culturas
SEEDS OF FREEDOM (VIDEO WITH ENGLISH SUBTITLES)
MADE BY  WWW.MANUCHAOJAPAN.COM
Avec Nob Zeitoun, Atoum Zeki, Olaf Bözer et Pierre Pleyber!!!!
Aquí tenéis el primer teaser!!! 
Este documental tratará los beneficios terapéuticos de las plantas medicinales y mostrará la importancia de consumir agricultura ecológica. No faltarán las voces críticas con las grandes multinacionales farmacéuticas y agroalimentarias!
HARMONIA from TURKEY
Harmonia is a multidisiplinary ecological architecture and design studio located on Mount Ida (Kazdağları) Turkey. They believe that the solution for this caos on earth is deep inside in all of our ancestors knowledge. To live more ecologically we need to do what our ancestors did, we need to know our cultures and synthesise the knowledge with what we learned today. Harmonia aims to be a bridge between past and future. Because of this thought in 2017 Harmonia have started a project about lost arts and crafts and designed this project as a school. They started to give lectures on universities, public spaces and on their land about sustainable design and ecological living.
They have a book about Turkish Tradititional Ecological Architecture: http://www.yeniinsanyayinevi.com/kitaplar/ekoloji-serisi/98-geleneksel-yapi-teknikleri.html
More info: www.harmonia.com.tr
 SEEDS OF FREEDOM . Video de Gloria Garcia
Seeds of Freedom : Version Tête de la Course - Kiss The Sky
Published by Jeroen van Ee
Subscribe Subscribed Unsubscribe
Part of the 'Seeds of Freedom' collaboration project (Feat. Jay-Z & Method Man)